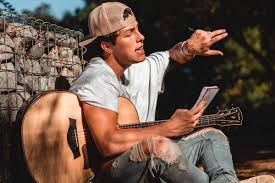 Nashville, Tennessee, 1st October 2023, ZEX PR WIRE, Tayler Holder, the most followed country music artist on TikTok, has unveiled his latest single, "Someone You Knew." This release follows the resounding success of Tayler's previous singles, "Til She's Gone" and "Time In This Truck," each of which garnered acclaim in the country music scene. As he continues to make waves in the music industry, Tayler Holder is establishing himself as a rising star in the country landscape.
Listen to Tayler Holder here.
Tayler Holder's journey to stardom has been nothing short of remarkable. Emerging from the TikTok sphere with his massive social media following, he is proving to be much more than an internet sensation. Holder is blending fresh sonics with compelling storytelling, attracting a new class of country music fans along the way.
"Tayler Holder has proven he is more than just his massive social media following," notes All Country News, "and is bringing a whole new class of country fans along with him." Tayler Holder's transition from digital influencer to budding country music star is marked by his authentic passion for the genre and his dedication to creating music that resonates with audiences on a deep level.
"Someone You Knew," his latest single, is a poignant reflection of personal experiences. Tayler Holder shares, "I recently went through a breakup, and at the time, there were so many things I was struggling with. Everything in my life was a constant reminder of this person, and it led me to truly asking myself if I could ever get over her, even talking to God asking for advice. I believe this song painted the perfect picture for those emotions, and I can't wait for everyone to hear it."
Holder's journey in Music City began to gain momentum following the success of his recent releases. He is now gearing up for his debut U.S. tour, where he will be the opening act for country music sensation Dylan Scott on his "This Town's Been Too Good To Us" Tour, scheduled for this Fall. Joining Tayler Holder on this exciting journey is fellow country singer-songwriter Matt Schuster, who will also be supporting Dylan Scott on tour.
Having garnered over 30 million fans across all of his social media platforms, Tayler Holder's rise to prominence has been nothing short of meteoric. His seamless transition from influencer to country music star is a testament to his authenticity and the warm reception he has received from the Nashville community and the wider music industry. Reflecting on his journey, Tayler Holder says, "I am very thankful that I have been welcomed by the Nashville Community and industry alike. I am humbled every day for the continued support, and I want to keep on bringing the best I have for the people that have championed me."
Beyond his music career, many know Tayler Holder from his viral success on TikTok, where he boasts nearly 20 million followers. However, music is now his primary focus. Tayler is recording for Aspen Artists, making it his priority as he releases "Someone You Knew." Produced by Andy Sheridan and co-produced by Ben Williams, and written by Ben Williams, Colin Healy, and Barrett Baber, this song is a preview of his forthcoming EP set to release later this year.
Hailing from Alvarado, TX, Tayler Holder's journey into entertainment began at a young age. He started racing and competing in motocross at the age of 3, a passion he still holds today. After completing high school through homeschooling, he moved to California to pursue his dreams of becoming an entertainer. His content on platforms like Instagram and Musical.ly quickly gained popularity with viral lip sync videos and daily lifestyle content.
TikTok became his latest platform of success, where he rapidly amassed millions of followers, further solidifying his status as a social media sensation. Now, Tayler Holder is channeling his energy into his music career as he continues to create content for his dedicated fanbase.
Stay updated with Tayler Holder's upcoming single releases and tour updates by following him on his social media channels.
For More Information on Tayler Holder & Aspen Artists:  
Instagram – https://www.instagram.com/taylerholder/
TikTok – https://www.tiktok.com/@itstaylerholder?lang=en
Twitter –  https://twitter.com/TaylerHolder
YouTube – https://www.youtube.com/c/TaylerHolder?app=desktop
Spotify- https://open.spotify.com/artist/5Hz3IW691fbgGqLk4yvlNN
Aspen Artists (Website): https://www.aspenartists.com/
Tour Dates:
– September 9th: Crusens Farmington Rd., West Peoria, IL
– October 12th: The Mill & Mine, Knoxville, TN
– October 13th: Tabernacle, Atlanta, GA
– October 14th: The Signal, Chattanooga, TN
– October 26th: The NorVa, Norfolk, VA
– October 27th: The Fillmore, Silver Springs, MD
– October 28th: The National, Richmond, VA
– November 9th: The Fillmore Detroit, MI
– November 10th: 20 Monroe, Grand Rapids, MI
– November 11th: Andrew J Brady Music Center, Cincinnati, OH
– November 16th: Hall at Spartanburg Memorial Auditorium, Spartanburg, SC
– November 17th: House of Blues, Orlando, FL
– November 18th: Jannus Live, St. Petersburg, FL
– November 30th: State Theatre, Portland, ME
– December 1st: House of Blues, Boston, MA
– December 2nd: Starland Ballroom, Sayreville, NJ
The Post Tayler Holder, TikTok's Most Followed Country Music Artist, Releases New Single first appeared on ZEX PR Wire
Information contained on this page is provided by an independent third-party content provider. Binary News Network and this Site make no warranties or representations in connection therewith. If you are affiliated with this page and would like it removed please contact [email protected]