Singapore, 1st October 2023, ZEX PR WIRE, On September 12, the crypto field ushered in an exciting moment. Coinstore's 2023 Brand Launch Conference reached its successful conclusion at the prestigious Fullerton Hotel in Singapore, heralding its global brand debut of Coinstore after over two years of dedicated development, focusing on serving emerging markets.
As one of the fastest growing trading platforms in 2022, Coinstore unites high-quality premium assets to empower global project launches. Coinstore strives to make transactions easier, make assets safer, and make cryptocurrency accessible to every corner of the world.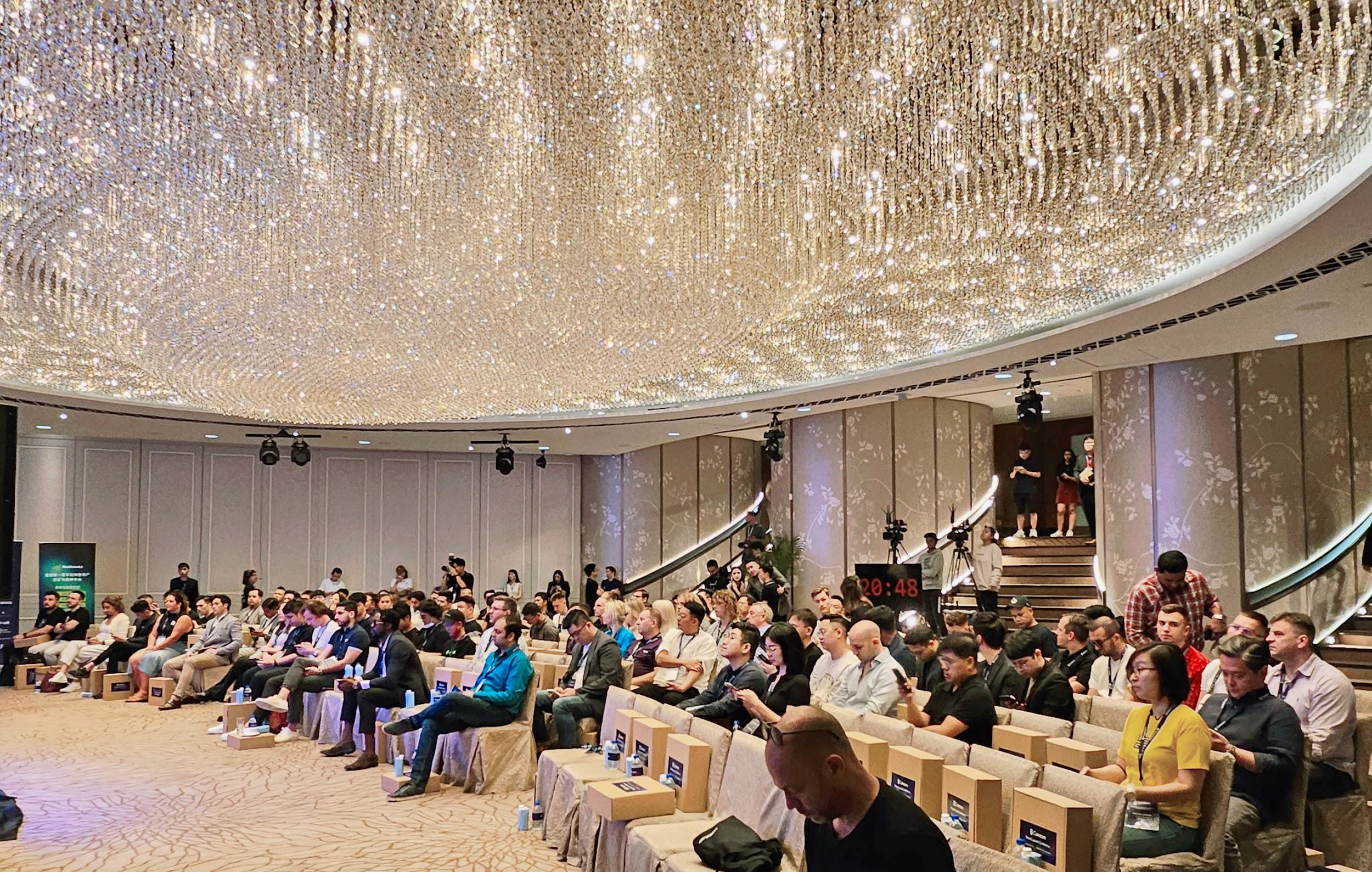 To celebrate the global launch of the Coinstore brand, prominent figures in the blockchain industry, including leaders from Cardano, Dfinity, W3GG, Emurgo Ventures, and more, graced the conference with their presence. They extended their support and shared insightful speeches on crypto circles as well as Web3 thinking.
Coinstore Reaches A New Milestone in This Global Debut
As the brand's debut, Coinstore announced its new brand revelation, product upgrades and future strategies for the outside world. The venue was packed and the press conference saw many industry experts. More than 100 venture investors, over 50 well-known companies, and a total of more than 400 crypto enthusiasts gathered to witness Coinstore's brand milestone.
James, Coinstore's Global Head of Business Development, introduced the brand's development history as well as its future brand strategy and vision. Since Coinstore launched its spot trading system, it has served more than 500 global projects and provided transactions for 3.6 million crypto enthusiasts in 175 countries and regions.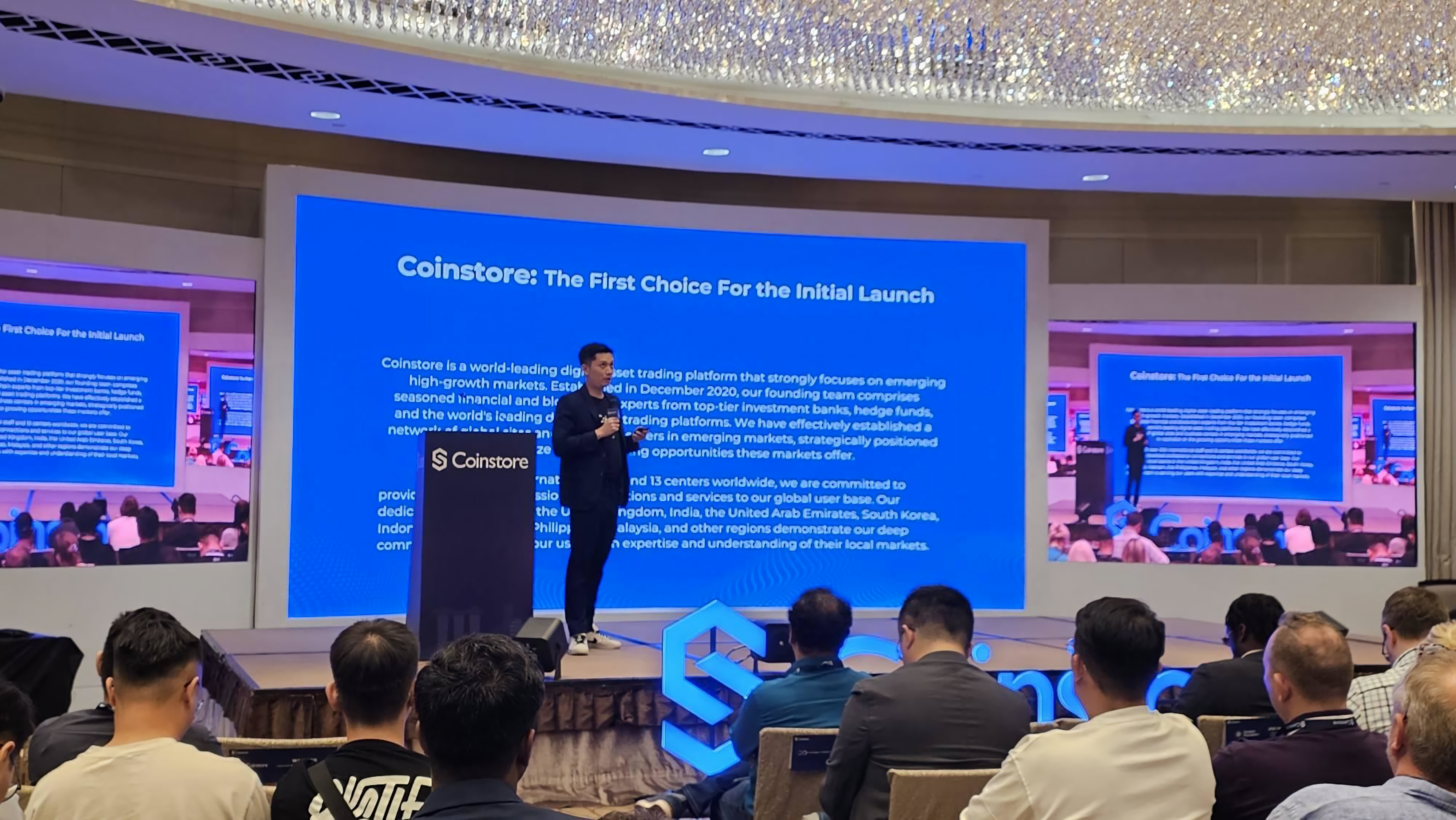 In order to announce the Coinstore brand to the world, Coinstore's Business Development Associate Director, Manfred Chew, introduced new brands and products. Coinstore represents the future of cryptocurrency trading. Named the Best Exchange in Asia by Crypto 306 and the Best Rising Star by Crypto Expo, Coinstore is revolutionizing the world of crypto finance. Coinstore uses innovative products to provide crypto enthusiasts with a one-stop solution for cryptocurrency trading, protect the security of users' assets, screen high-quality assets for users, and allow more high-quality assets to be launched on Coinstore.
Regarding the discussion of cryptocurrency infrastructure, Jide Fashola from Cardano delivered a keynote speech and believed that cryptocurrency represents the future of currency and ensures secure and fast direct transfers through blockchain technology. Advancing the construction of public digital infrastructure, cryptocurrency serves as a practical tool in financial and social systems. It provides facilities for fair financial services to everyone, thereby fostering greater financial inclusivity.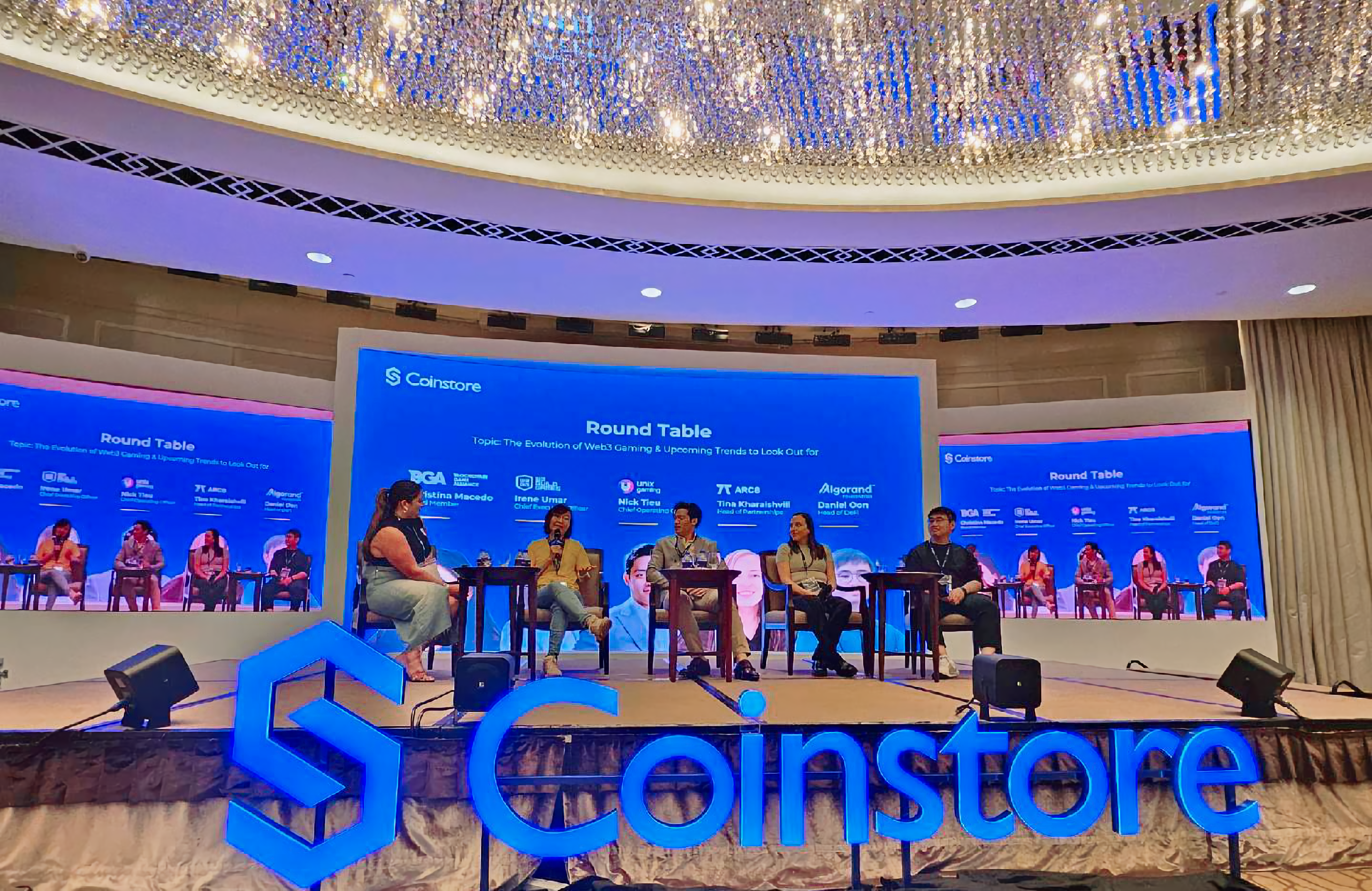 In the impassioned discussion titled "The Evolution of Web3 Gaming and Upcoming Trends to Look Out For" roundtable session, guests discussed the evolution of Web3 games, communicated about the current situation of Web3 games, and shared solutions for the transition of games from Web2 to Web3. They also analyzed upcoming trends in Web3 gaming and delved into the evolution of its tokenomics, all aimed at collectively driving the development of Web3 gaming.
To explore the functioning of decentralized gaming, Daniel Oon, the head of My Neighbour Alice, delivered a keynote speech titled "The Decentralized Game." In it, he shared insights into the logic of decentralized gaming and discussed the importance of focusing on user self-expression and collaboration when building fully decentralized games. Targeting Web3 users, the ability to create NFTs for self-expression was emphasized, ultimately paving the way for users to build their own Web3 worlds.
In another roundtable discussion titled "With The Integration of AI With Blockchain, How Will This Impact The Trend of The Crypto Market and How Do We Expect It To Evolve", the guests discussed how artificial intelligence brings more possibilities to cryptocurrency, further increasing the use value and popularity of cryptocurrency.
Discussing the trends of artificial intelligence's impact on cryptocurrency, the event provided crypto enthusiasts with deeper insights into digital currencies and Web3 considerations.
As Web3 becomes a trend and asset security emerges as a pressing issue in the crypto sphere, Liu Yang, the head of MetaTrust Labs, delivered a talk titled "Builder-first Web3 Security." Noting the increasing number of crypto-related hacks, Liu Yang addressed the unique characteristics of Web3—its unregulated, irreversible, transparent, and open nature—which make assets vulnerable to attacks. He provided the crypto enthusiasts in attendance with valuable insights into Web3 security considerations.
Facing the bear market in the crypto circle, Joey Cheah, head of NoahSwap, said in his speech that the cryptocurrency market is facing growing challenges, with 70% of holders suffering capital losses in the bear market in 2022. NoahSwap aims to accept the challenges of crypto investment and assist Global users reduce investment losses.
The successful execution of Coinstore's brand launch event marks the emerging brand's challenge to industry giants, offering more choices to crypto users. Coinstore's global brand debut also accelerates its positioning in the crypto and Web3 landscapes.
In the midst of this remarkable event, we also have the privilege of having Zeebu as one of our esteemed co-sponsors.
Zeebu is the pioneering on-chain B2B invoice settlement platform that uses blockchain technology and smart contracts to streamline the settlement process for the telecom carrier industry. It addresses the delays and inefficiencies of traditional processes, offering instant, seamless, and transparent transactions. With robust KYC protocols and non-custodial wallet support, Zeebu ensures secure and private payments between customers and merchants. The platform is powered by $ZBU, the world's first B2B loyalty token, which incentivizes telecom carriers for successful invoice settlements. Zeebu's dedication to blockchain technology demonstrates their belief in its potential to significantly transform the industry.
In its journey so far, Zeebu has achieved significant milestones. It has secured $25 million in presale funding, demonstrating confidence in its innovative approach. The $ZBU token has been listed on leading cryptocurrency exchanges including MEXC and LBank, making it accessible to a global audience. In addition, $ZBU is trackable on popular cryptocurrency tracking platforms like CoinMarketCap and CoinGecko. The Zeebu community has also seen rapid growth, with over 100k members across various platforms.
The Co-founder and CMO of Zeebu, Raghavendra Hunasgi, expressed his excitement about the event, saying, "We are thrilled to have been a part of the Coinstore Brand Launch, and it's exciting to see the innovation and progress being made. As we continue to support and propel the Web3 revolution, we look forward to more such collaborations that drive the industry forward." 
Empowering high-quality premium assets for its global debut
Born in a bull market and steadfast in a bear market, Coinstore has rapidly risen to become one of the fastest-growing trading platforms in the past two years. Since launching its spot trading system on June 11, 2021, Coinstore has provided trading services to crypto enthusiasts in 175 countries or regions, with Indonesia, India, and Nigeria emerging as the top three countries in terms of registered users.
Focusing on emerging markets and empowering high-quality assets, Coinstore has built itself into the world's leading exclusive premium listing platform. The slogan is "The First Choice For the Initial Launch". Through meticulous screening and expert evaluation, Coinstore lists quality premium assets for its users.
Coinstore provides VIP services for online projects, and has a dedicated delivery department to provide one-to-one services for projects and assist in the overall listing, marketing and operation of the project. This is also the basis for Coinstore to select high-quality projects for its users.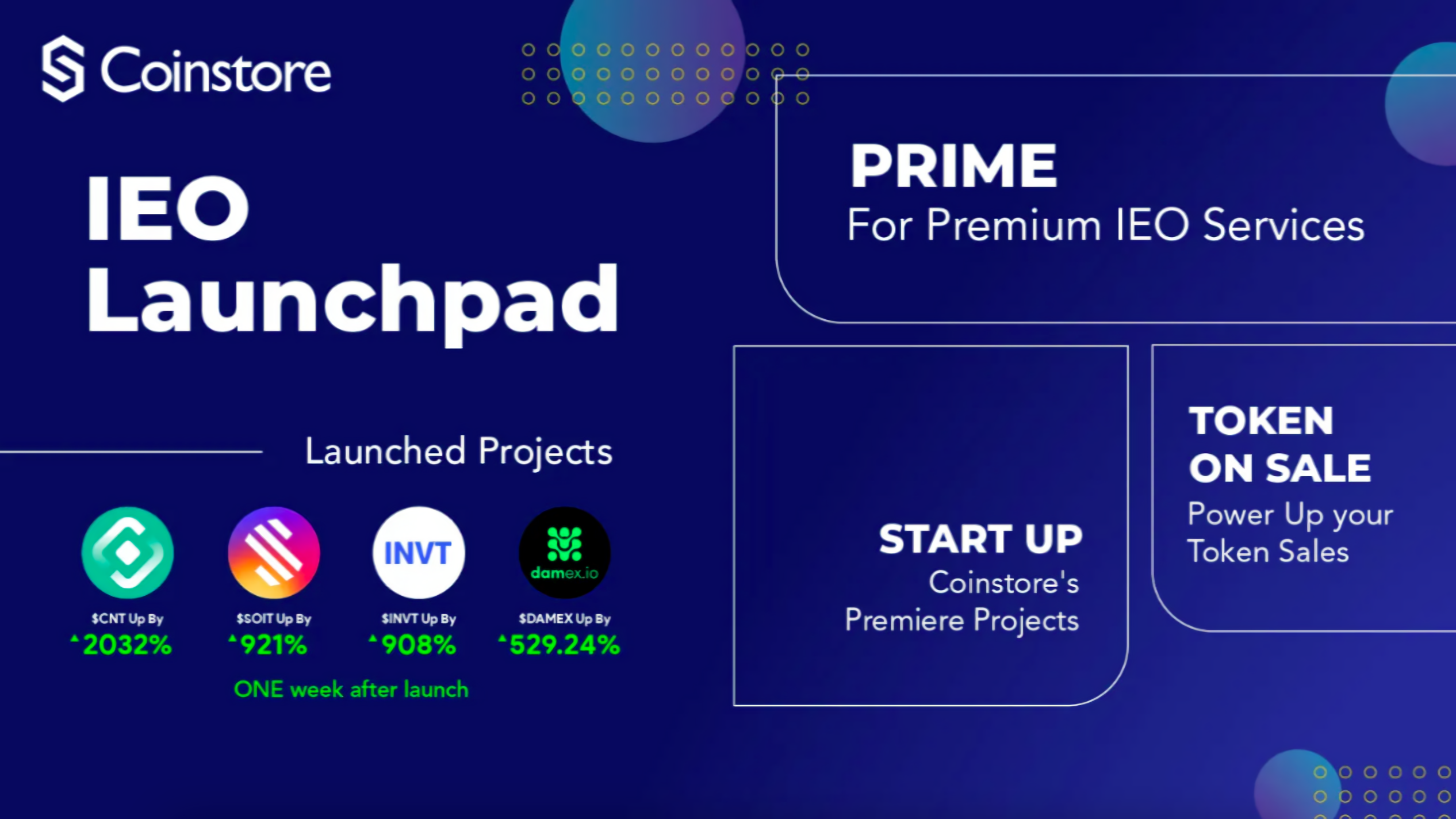 Coinstore remains committed to simplifying trading, securing assets, and unearthing quality assets for its users, leading to the inception of Coinstore Launchpad. As of September 5, 2023, Launchpad projects have seen an average oversubscription rate of 227% this year, with the best-performing project, SOIT, yielding an astounding 26.7x ATH (All-Time High) investment return. As of June, projects launched on Prime have seen an average value increase of 1071%. Launchpad has become one of Coinstore's most popular and successful products.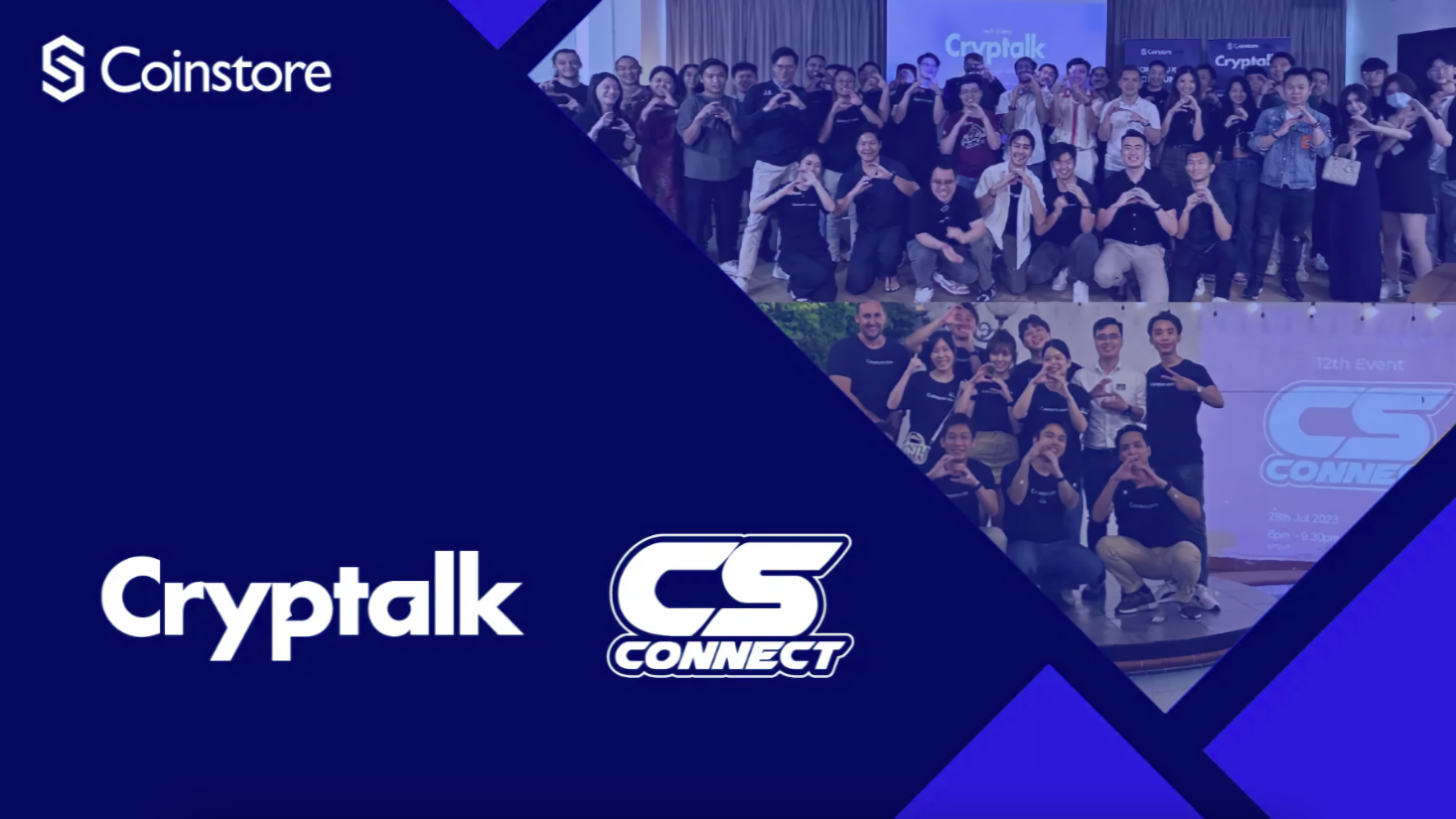 To disseminate knowledge about blockchain and Web3 and to bring cryptocurrency understanding to a broader audience, Coinstore has launched two major offline events: "CS Connect" and "Cryptalk." In 2023, Coinstore aims to expand its reach by hosting over 30 Cryptalk events and 50 CS Connect events, covering more than 20 countries.
Coinstore continuously rolls out financial innovations with the aim to offer more inclusive digital financial services to its global user base. In March 2022, Coinstore launched Web 3.0, utilizing wallets as a gateway to bridge the gap between centralized and decentralized exchanges, thereby offering users a one-stop solution for digital asset management.
Coinstore will continue to build a Web3 security ecosystem, adhere to technological product innovation under the premise of legal compliance and controllable risks, create a new secure digital world, and promote the application of Web3 and other technological innovations.
In the name of blockchain technology, the power of Web3 technology for good is unleashed. Coinstore firmly believes in the power of crypto to bring cryptocurrency ownership to more people and make it universally accessible in every corner of the world.
Since its inception, Coinstore has been quietly contributing to empowering the emerging world with crypto strength. With the global launch of Coinstore's brand event, it proclaims the magical power of crypto to the world. One small step for the crypto community, one giant leap for Coinstore. Together, we witness the alternating bull and bear markets and the transformative impact of the crypto world.
For additional information and business inquiries, please contact: https://www.coinstore.com/#/home
The Post Born for Initial Launches: The Coinstore Brand Launch Conference Wraps Up Triumphantly first appeared on ZEX PR Wire
Information contained on this page is provided by an independent third-party content provider. Binary News Network and this Site make no warranties or representations in connection therewith. If you are affiliated with this page and would like it removed please contact [email protected]