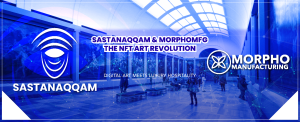 Dubai, UAE, 10th September 2023, ZEX PR WIRE, In an exciting fusion of technology, art, and luxury, Sastanaqqam has announced a strategic collaboration with the renowned Chinese engineering firm, MORPHOMFG. This partnership aims to engineer and produce state-of-the-art digital frames dedicated to showcasing NFT (Non-Fungible Token) artworks.
Sastanaqqam, already a trailblazer in the Web 3.0 domain with its unique blend of decentralization, digitization, and entertainment, is set to redefine the way we experience digital art. These digital frames, meticulously designed and crafted, will provide art enthusiasts, collectors, and general audiences with a tangible interface to interact with and appreciate the ethereal world of NFT art.
The buzz around this innovation has already caught the attention of the luxury hospitality industry. Several prestigious hotel chains have expressed keen interest in equipping their establishments with these digital frames. Recognizing the immense potential and allure of digital art, these luxury hotels aim to offer their guests an unparalleled experience, blending traditional opulence with cutting-edge technology.
The move by luxury hotels to integrate NFT displays into their ambiance is a testament to the growing influence of Web 3.0 and digital art in contemporary culture. Not wanting to be left behind in the rapidly evolving digital landscape, these hotels are eager to jump on the Web 3.0 bandwagon, ensuring they remain at the forefront of innovation and luxury.
MORPHOMFG, with its expertise in engineering and manufacturing, is the perfect ally for Sastanaqqam in this venture. Together, they aim to create digital frames that are not just functional but also aesthetically pleasing, ensuring that the displayed NFT artworks are presented in all their glory.
In conclusion, the collaboration between Sastanaqqam and MORPHOMFG marks a significant milestone in the journey of digital art from the virtual realm to the physical world. As luxury hotels gear up to embrace this revolution, guests can look forward to a unique blend of art, technology, and luxury, promising an experience like never before.
About Sastanaqqam
Sastanaqqam is a project that launched as a result of NFTs going mainstream.
The project started when they explored how to switch from a traditional business model – in art and art collecting – to a decentralized one using blockchain technologies.
From this vision was born a range of projects to be developed around this, such as the Wallet, native token (Blue Token), Marketplace, NFT RentalPlace, Virtual Museum, Staking Platform, and P2E Games. In this article, we explore every aspect of that project in more details: showing you what you can experience and benefit from on the Sastanaqqam Platform.
Sastanaqqam creates a thriving Web 3.0 ecosystem by converging decentralization, digitization, and entertainment. As a dynamic hub for artists, collectors, and crypto enthusiasts, we offer blockchain-powered services that elevate the experience. Our platforms include a Digital art gallery, a Rental service for art display, and a crypto Wallet. Future developments include a virtual Museum and entertainment Platform designed to empower users' Web 3.0 journey
Sastanaqqam's varied services include a robust DeFi platform, state-of-the-art art platforms, an engaging entertainment segment, and an education platform focused on enhancing financial literacy. Their services, supported by the Blue Token, epitomize the tenets of Web 3.0 by offering users decentralized and digitized services across several domains.
Sastanaqqam, a pioneering company that blends decentralization, digitization, and entertainment in a Web 3.0 ecosystem, declared a new strategic alliance with Unicsoft, a highly respected technology consulting company. This exciting collaboration signals a leap forward in enhancing and developing innovative solutions within the blockchain sector.
The Post Sastanaqqam Partners with MORPHOMFG to Pioneer NFT Frames: Luxury Hotels Eager to Embrace the Digital Art Revolution first appeared on ZEX PR Wire
Information contained on this page is provided by an independent third-party content provider. Binary News Network and this Site make no warranties or representations in connection therewith. If you are affiliated with this page and would like it removed please contact [email protected]