Brussels, Belgium, 10th November 2023, ZEX PR WIRE, Safe Haven, a pioneering blockchain technology company, announced its next milestone on November 1st, 2023, as they proudly revealed the successful integration of OP Mainnet into their bridging platform, SafeSwap. The integration expands the possibilities for developers by providing them with an atomic swap bridge to facilitate seamless transfers of native tokens to and from the Optimism ecosystem.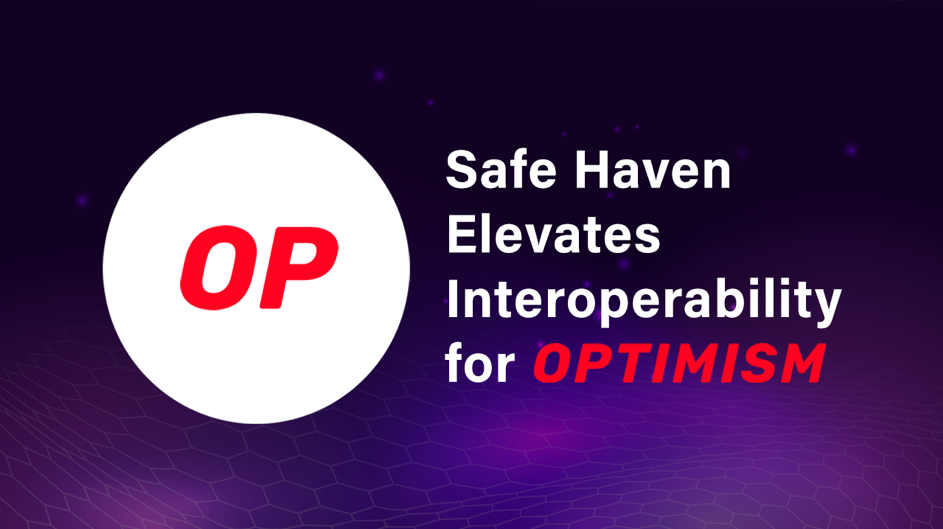 Opening Doors for Optimism
The addition of OP Mainnet to SafeSwap ushers a new era of blockchain applications, where developers can use their native tokens to unlock untapped potential on multiple blockchains. It offers the opportunity to create multichain applications, increase user engagement, establish novel utility and liquidity, and attract a vibrant community of developers and users.
OP Mainnet as Layer 2 network is designed to utilize the strong security guarantees of Ethereum while reducing its cost and latency. It offers faster transactions, lower fees, along with the scalability and security benefits of Optimism's protocols and a user-friendly development platform. The robust governance model encourages active participation from multiple companies and stakeholders, fostering the chain's growth. As a result, it has gained significant popularity and is considered one of the leading chains in the crypto space.
Pioneering Breakthrough 
Builders looking to engage in the OP ecosystem with their native token can now take advantage of the access offered through SafeSwap. SafeSwap sets itself apart from other bridging technologies by enabling the transfer of native tokens between various EVM-based blockchains without the need for wrapped tokens or third-party custodian. It allows builders to explore and leverage the possibilities of multiple blockchain ecosystems and new ways of connecting to new user bases, without leaving their current community or achievements behind.
In this groundbreaking approach, it enhances transaction trustlessness by integrating atomic swaps with Hashed Timelock Contracts (HTLC). Atomic swaps transfer tokens from the user's wallet on one chain to the user's wallet on the other chain, with no tokens held in the bridge at any time. The HTLC creates a decentralized transaction verification process, ensuring the transaction only takes place when certain conditions are met within a specified time frame. It makes sure that developers and users have full control over their tokens, at all times. The risk of exploitation of a swap in progress is further eliminated through use of state-of-the-art encryption methods.
SafeSwap operates without the need for user liquidity or designated issuer liquidity. Instead, it utilizes pre-minted token supplies on each chain, which are securely locked and monitored, combined with a solid lock-unlock mechanism. There is no requirement to allocate circulating liquidity or distribute tokens across chains. As a result, the tokenomics of projects remain intact and unaffected. The SafeSwap Dashboard offers a comprehensive overview of all tokens, including both locked and unlocked on each connected chain, allowing builders to effortlessly monitor the tokens.
API Integration with Whitelabel Option
SafeSwap is also available as API integration with a whitelabel option. API, or Application Programming Interface, acts as a bridge between different software systems, enabling seamless data sharing and real-time updates. Safe Haven offers builders the possibility to integrate SafeSwap into their own software applications, platforms, and tools, elevating their project's user experience and strengthen their branding, without disrupting their existing infrastructure. It allows to expand revenue streams by offering the service without the need for extensive technical knowledge or infrastructure, and eliminating the time and costs of developing the solution yourself.
The whitelabel option enables developers to customize the appearance of SafeSwap to align with the project's style and provide a branded and consistent user experience. The debut of SafeSwap as a whitelabel solution was on October 2023. Shortly after, the first token listing through this solution was announced, featuring Legacy Network token.
Optimum Security
SafeSwap was successfully launched in 2022 after an extensive period of testing, including a comprehensive code audit by Red4Sec, a respected cybersecurity firm specializing in ethical hacking and security auditing.
By utilizing native tokens, and atomic swaps with HTLC, SafeSwap eliminates the complexities and risks associated with central custodians, illiquidity, and vulnerabilities in smart contracts. The implementation of the lock-and-unlock mechanism not only decreases risks but also enhances processing times. In stark contrast to conventional burn-and-mint protocols, this approach effectively mitigates inefficiency, centralization, and the potential risks associated with token destruction.
To ensure the most reliable swapping experience, SafeSwap added additional security features. Each locked liquidity pool is assigned a unique code specific to the destination chain, preventing unauthorized swapping. Larger asset swaps require a higher number of confirmations, guaranteeing accurate execution. Furthermore, rate limiting allows token issuers to set a maximum transfer rate for their tokens, further strengthening the overall security of the system.
About Safe Haven
Safe Haven is a pioneering company in the blockchain field with roots in Belgium. It aims to contribute to an accessible, inclusive, and secure digital economy for everyone. Products include the backup and inheritance solution Inheriti®, a cold storage device for Inheriti® shares with 2FA functionality, and an atomic bridge that was originally built to make Safe Haven's native token SHA available on multiple chains. The products have been developed from the ground up by experts in the fields of blockchain and security, ensuring decentralized, reliable and robust solutions. The company's token is $SHA, and SHA node holders share in the utility rewards.
The integration of OP Mainnet presents Safe Haven with the opportunity to incorporate Inheriti® into Optimism's ecosystem. Inheriti® combines traditional estate planning with the growing world of digital assets, offering a decentralized solution for backup and transfer of access data to cryptocurrencies, NFTs, business and social media accounts, intellectual property, and other (digitized) information. The service is available as a standalone platform and API integration, with the option for a Whitelabel solution, and will soon be expanded with the option of fiat payments, making it accessible to non-cryptocurrency users.
End Note
With the integration of OP Mainnet, SafeSwap is increasingly becoming a bridging solution that occupies a serious position in the range of possibilities in the field of bridging between different blockchains. By providing developers with unparalleled access to multiple blockchain ecosystems, Safe Haven is fulfilling its mission to broaden horizons and push the boundaries of blockchain technology and continue to position itself as an important frontrunner in the blockchain industry. To facilitate onboarding of projects that are interested in going cross-chain with their native token, Safe Haven provides an ongoing SafeSwap Commission Program.
Useful Links
SafeSwap website: https://safeswap.io/
Video Introduction SafeSwap: https://youtu.be/kiDFzEeWPyI?si=zwXvhas5hNrbNYgV
Safe Haven website: https://safehaven.io/
SafeTech website: https://safetech.io/
Inheriti® website: https://inheriti.com/
The Post Safe Haven Elevates Interoperability for Optimism first appeared on ZEX PR Wire
Information contained on this page is provided by an independent third-party content provider. Binary News Network and this Site make no warranties or representations in connection therewith. If you are affiliated with this page and would like it removed please contact [email protected]