Intermundo, an app developed by MetaMundo, has been released. To mark the launch, MetaMundo has planned an airdrop event with the goal of enhancing people's daily lives, workplaces, and connections with others.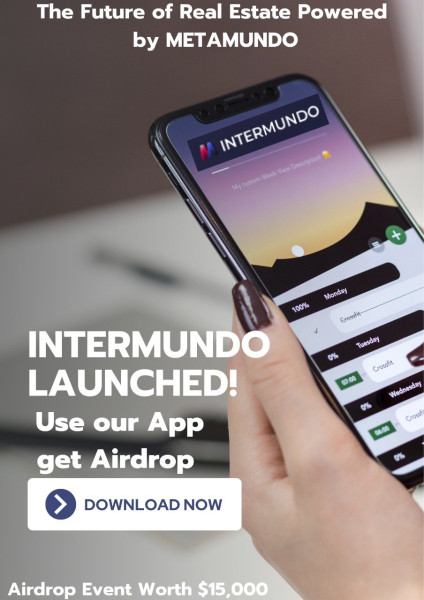 Hong Kong S.A.R., 13th Jun 2023 – MetaMundo announced the long-awaited grand launch of the innovative app, InterMundo, in a world that prioritizes innovation and technological advancement. Metamundo's mission is to pave the path toward a brighter future by revolutionizing how people live, work, and connect.
MetaMundo applied Web3.0 Blockchain technology to effectively resolve efficiency, transparency, and fairness issues in the real estate market by linking structural defects and technical problems of projects to real estate and making it simple, convenient, and safe for all participants to own and trade real estate.
App InterMundo service, as a function of the MMT token's governance and community, offers a variety of utility functions, such as delivering real estate investment information, allowing investors to connect with one another, and voting on the co-investment industry.
MetaMundo's Launch Event
To further celebrate the launch of Intermundo, MetaMundo has announced a special airdrop event.
Having the airdrop event is a means for Metamundo to show its appreciation to its patient users. Users that take part in the event may be eligible to obtain Metamundo Token-MMT, a cryptocurrency that can be used inside the app's ecosystem or traded on multiple platforms.
1. Download InterMundo from the iOS App Store or Google Play Store once it becomes available. (IOS App Store is still in preparation.)
2. Create an account and complete the onboarding process.
3. Capture your own app downloads and upload them to the community.
4. As your referrals join and engage with the app, you'll earn MMT rewards.
Officials from MetaMundo have stated that they firmly believe that collaboration is the key to cultivating creativity, which is why MetaMundo expects more users to communicate with one another and become active members of the InterMundo community. Additionally stating, "We are delighted to announce the long-awaited release of our revolutionary app, InterMundo. With a passion for revolutionizing how we live, work, and communicate, we invite you to join us on this remarkable voyage towards a better future."
The long-awaited app InterMundo has finally been released, and it will revolutionize the way people interact with technology, bringing the world closer together and making lives easier. The devoted team of specialists at MetaMundo has spent countless hours developing an app with cutting-edge features, intuitive design, and unparalleled functionality.
About the Company
MetaMundo has been working on a blockchain project for the real estate industry as part of its Proptech business since 2019. MetaMundo has created a meta protocol project and a blockchain cluster in order to transform the virtual asset market and the real estate market at the same time and to build a varied ecosystem.
MetaMundo is rapidly extending access to domestic real estate investment internationally, with a concentration on Korea. It is a safe and transparent real estate investment platform that employs blockchain technology, and it is expected to have a large impact on the real estate market.
For more information and updates on the app launch and airdrop event, visit Metamundo's website and follow at MetaMundo's Twitter. Medium and Telegram
Media Contact
Organization: MetaMundo Inc.,
Contact Person: David
Website: https://metamundo.net/
Email: [email protected]
Country: Hong Kong S.A.R.
Release Id: 1306234113
The post MetaMundo has announced the Grand Launch and Air Drop Event for the long-awaited app INTERMUNDO. appeared first on King Newswire.
Information contained on this page is provided by an independent third-party content provider. Binary News Network and this site make no warranties or representations in connection therewith. If you are affiliated with this page and would like it removed please contact [email protected]