Zurich, Switzerland, 20th November 2023, ZEX PR WIRE, In the ever-evolving world of cryptocurrency, IXFI is a pioneer, reshaping the landscape with its user-centric innovations. As a Generation 3.0 ecosystem, IXFI leads the shift towards a more inclusive and user-focused crypto world and contributes to the global adoption of crypto, balancing crypto and NFTs with the security and compliance of a centralized exchange.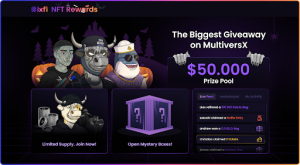 IXFI's NFT Hub, which recently wrote history by gathering the most MultiversX communities under the same roof, is not just another giveaway or a feature. It represents a significant move towards a more collaborative and unified crypto community. This campaign is just the beginning, a stepping stone for developing a full-grown NFT Hub where users can also obtain extra value from their NFT holdings on other chains. The NFT Hub, with its upcoming unique functionalities and opportunities, is set to transform how NFT holders and projects interact and develop.
The NFT Campaign accentuates IXFI's commitment to innovation, providing extra utility to NFT projects and promoting collaboration across ecosystems. It's a product built for and with the crypto community, addressing needs other platforms or products must look into. This initiative is proof of IXFI's essence of being user first, designed with a gamified approach to engaging users. IXFI Points, similar to loyalty points, reward users for their platform interactions, offering various benefits and rewards.
IXFI's choice of MultiversX for this campaign's infrastructure, alongside collaborations with partners like XOXNO and Pulsar Chain, reflects the company's strategic and thoughtful approach. This campaign is just a glimpse of IXFI's broader vision, which focuses on Social-Fi, Game-Fi, and Trade-Fi, demonstrating their commitment to empowering users in a Web 3.0 future.
The NFT campaign has successfully united 30+ distinguished partners and accumulated the participation of over 20,000+ users who have connected their MultiversX wallets to IXFI's NFT Hub. This initiative has mobilized a substantial user base that competes for the impressive rewards pool worth $50,000+. All the while, it maintains high compliance and security standards. This balance of feedback and trustworthiness from the community is rare in the crypto world but is a cornerstone of what IXFI offers.
In conclusion, IXFI's NFT Hub is more than just a temporary product that rewards the NFT holders; it's an evergreen initiative that will continue to be relevant and impactful. With its focus on user empowerment and innovative solutions, IXFI is not only participating in the crypto revolution but is actively leading it.
About IXFI
With its vision of creating a world where crypto is as accessible and straightforward as fiat, IXFI is committed to pushing the boundaries of a crypto platform. To further enhance the adoption and usability of cryptocurrencies, IXFI will launch a crypto card in the first quarter of next year, in partnership with VISA. The IXFI Card, in collaboration with Solaris (formerly Contis), will offer users the convenience of spending their cryptocurrencies at over +80 million merchants while maintaining IXFI's high-security standards.
By ensuring light speed and liquidity accessibility through the biggest on-ramp platform in the world, by focusing on usability and building clean interfaces, and by growing adoption through a user-first approach, IXFI positions itself as a regulated and audited Gen 3.0 Exchange that aims to onboard the next 10,000,000 million users into crypto.
For more information on IXFI's innovative solutions and to join the IXFI community, visit https://www.IXFI.com or contact [email protected].
The Post IXFI's NFT Hub: A New Era for NFT Utility and Community Synergy first appeared on ZEX PR Wire
Information contained on this page is provided by an independent third-party content provider. Binary News Network and this Site make no warranties or representations in connection therewith. If you are affiliated with this page and would like it removed please contact [email protected]