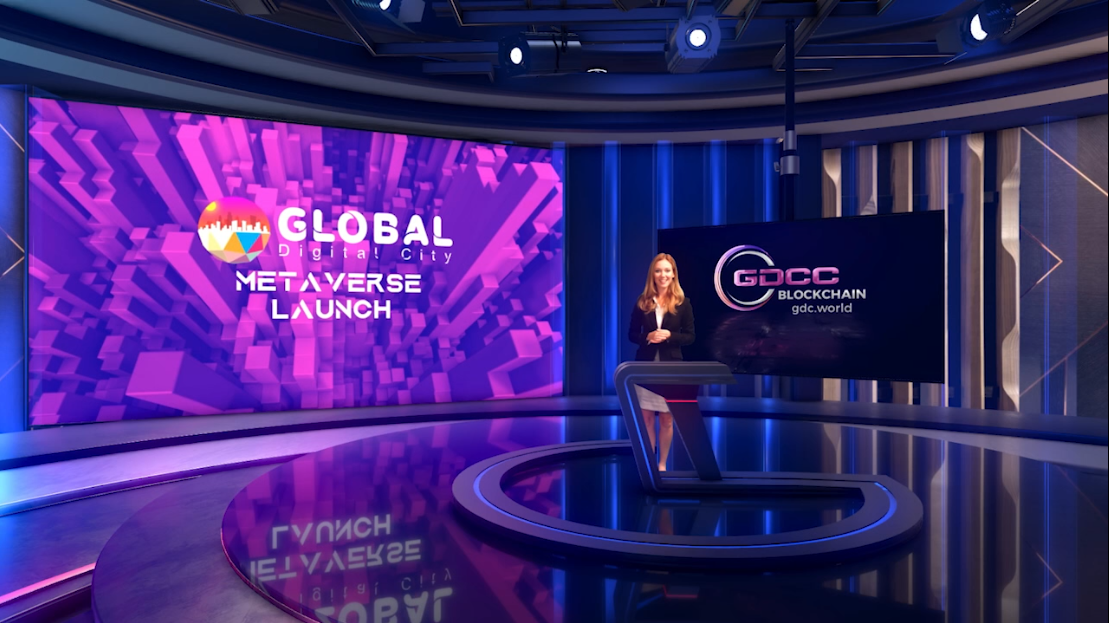 London, UK, 24th September 2022, ZEXPRWIRE, The most awaited metaverse is here, GDCC Blockchain-backed Global Digital City metaverse is live now. Global Digital City was launched on 22 Sept 2022 at a YouTube event online. GDC world is the first community-owned virtual world. It consists of over 1 Lacs plots of LAND. The plot comes with its own built-in website, a game, and a social network, Potential features that Global Digital City has planned for this platform such as A unique way of socializing and interacting with other players, A built-in game that you can play at any time or even offline, A networked community where you can interact with other players from all over the world and A place where you can buy land plots and build your dream home.
The Global Digital City Project is an effort to develop a decentralized, virtual community where all members have an equal voice in the direction of their virtual community. Once the city is built, members will be able to create and build upon their own unique vision of the city. The project envisions a platform where all members can interact, gather, discuss and learn about each other's visions, goals, and ideas. Copies of the City will be able to tokenize, with the potential to generate recurring income through strategic investment and mining. The platform will include both centralized and decentralized features, making it possible to build a fully-functional city from the start to finish.
GLOBAL DIGITAL CITY
Global Digital City prides itself as the first community-owned virtual world. It consists of over 1 Lacs plots of LAND, which are unique NFTs built on the Global Digital Cluster Coin (GDCC) blockchain. Global Digital City has many types of LAND, including different kinds of individual parcels, ESTATES consisting of many plots, districts, a collection of parcels with similar themes, and plazas, which are untradable parcels that serve as hubs owned by the community. These parcels of LAND can be purchased and sold on the Global Digital City marketplace, as well as wearables and names for in-game avatars.
BLISS TOKEN
Bliss is an GDCC-20 token that can be used to transact within the Global Digital City ecosystem with almost zero gas fees. BLISS token will serve functions like Staking, Advertising, Digital Collectibles and Social Groups. These functions will create a seamless and scalable experience for the creators and users of the platform. The Bliss Token pre-sale is now live. The 1st and 2nd rounds are over. Currently, Round 3 is ongoing and will end on 30th September 2022, at a price of 0.10 $. There will be a Round 4 starting on 1st October and ending on 31st October 2022 with a Buying Price of 0.20$. Round 5 will begin on November 1st, 2022, ending on February 14th, 2023, at a $0.40 Buying Price. It will be listed on centralised and decentralised exchanges starting 1st March 2023 to 1st April 2023, with a listing price of 2$.
GDCC ECOSYSTEM
GDCC Blockchain is growing day by day currently GDCC has 150 + projects that are live on our blockchain. As of now, GDCC blockchain have half a million holders and before the end of 2022 GDCC blockchain will be crossing 2 million+ holders.
GDCC Ecosystem that are live:
Testnet Platform for Muzella and Hopium: First time GDCC Blockchain are giving an opportunity to our user to come and create liquidity on Testnet and even swap the tokens and learn how to use decentralized exchange beside this GDCC is also giving the same platform for muzella where users can test their Nft's.
Hopium Dex : After creating the smart contract user can easily create the liquidity on dex and start the token trading instantly. User can add liquidity to different pools and enjoy the benefits of earning fees from the transaction.
Muzella Studio – Nft's Buy and Sell Platform : In muzella Users can buy and sell Nft's in the form of art, music, utility, sports, cards, collectibles and so on. GDCC do have a criteria where user can set the royalty fee at the time of creating the Nft's from this they will be getting the passive income every time at the time of buy and sell of their Nft's.
Cross Chain Platform – GDCC, BNB & ETHEREUM : User can move our GDCC coins and tokens to different chains in the form of wrapped coins and tokens. Currently GDCC is supporting Bnb, Ethereum and in coming future GDCC will be adding more chains into that.
GUSD – Pegged Stable Coin : Same as USDT. GDCC have launched our own stable coin for our ecosystem it is 100 % pegged and backed up with the USD in the form of USDT, USDC$ BUSD.
Metaverse – Global Digital City : As we all know these days metaverse is so much trending in the market so keeping in mind GDCC have also launched our Global Digital City as a metaverse projects
Bliss Token – Bliss is an GDCC-20 token that can be used to transact within the Global Digital City ecosystem with almost zero gas fees.
Upcoming projects
At least 5 more metaverse coming on GDCC Blockchain two already started working.
Virtual Bay city and other one is Ocean Land Business.
More play-to-earn games coming including like casino sports book, slots games and more.
To participate in Bliss Token Pre-sale visit : www.blisstoken.io
Visit Global Digital City Metaverse : Gdc.world
The Post GDCC Blockchain Announces Launch of Its Metaverse GDC World and Pre Sale of Bliss Token appeared first on ZEX PR WIRE
Information contained on this page is provided by an independent third-party content provider. Binary News Network and this Site make no warranties or representations in connection therewith. If you are affiliated with this page and would like it removed please contact [email protected]