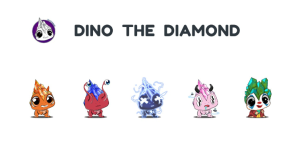 Surat, India, 15th August 2023, ZEX PR WIRE, SOCH business mentors LLP is a company in India that helps family businesses. The latest news is that they have a new project called Dino the Diamond (DTD). This exciting venture is part of a three-series NFT collection that aims to change this industry. 
This project aims to create a presence in the blockchain for real diamond manufacturers to bring their products to Web3. This new NFT series will begin with the character Dino, crafted from the imagination of this young girl. Each piece of this collection will feature different diamond heads. Overall, the project aims to represent the essence of Surat's Diamond City.
A Project Coming Directly from the Diamond City
The young daughter of the project's founder has a strong passion for storytelling. This particular talent led to the creation of Dino the Diamond. 
Inspired by her short story titled "What if I Met an Alien?" the project relies on the idea that love and friendship have the power to transcend all boundaries.
This ideology served as the foundation for the entire Dino The Diamond series. The story centers around Dino the Diamond, a character created by the founder's daughter. This project exemplifies how one innocent idea can lead to something bigger and more meaningful.
The idea behind this project is based on this story and the unique environment of Surat's diamond industry. Surat, also known as "Diamond City," is the right place for Dino The Diamond to take place.
Surat's diamond business is worth more than $38 billion a year and cuts and polishes more than 95% of all diamonds cut and polished around the world. Surat has a booming diamond business that makes people's lives better.
The Project's Declared Goals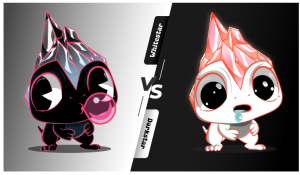 A sneak peek from Dino the Diamond's collection
Dino The Diamond is a project with a purpose. It wants to make a digital world where people can show love and kindness to everyone, no matter who they are or where they come from.
Dino The Diamond will facilitate direct connections between NFT holders and diamond manufacturers. The strategy intends to bring diamonds into the web3 world, positively impacting the diamond industry. 
Dino The Diamond wants people to think of diamonds as symbols of love and something that never gets old. The team's whitepaper clarifies multiple goals for this new project, such as:
Engagement and Inclusiveness

: creating a community that is highly engaged and supportive

Innovative NFT Projects

: providing a shared ecosystem for innovative NFT projects

Successful NFT Projects

: delivering successful NFT projects with great creativity and utility

Empowerment of Newcomers

: supporting and empowering those new to NFTs

Becoming an Icon

: becoming a kids/pop culture icon and brand in the digital world

The emotion of Friendship

: all Dino emotions are unique expressions of friendship, meeting love, and kindness

Prosperity, Meaning, and Love

: making all owners part of an unending journey of prosperity, meaning, and love.
Additionally, it is relevant to understand this team's business view and value proposition. With $1.2 million invested in the development of Dino The Diamond, this project is a significant one for the industry.
In terms of business value proposition, NFT holders can enjoy exclusive privileges. Connections to diamond producers and access to upcoming collections are among these benefits.
Holders will also receive creative and commercial rights associated with their Dino. Moreover, this project works towards reducing carbon emissions by up to 92%, thus supporting ESG targets.
The First Part of a New NFT Initiative
Dino The Diamond uses advanced technology to create near-real Dino heads with unique diamond patterns.
Diamond-cutting and polishing masters created these works of art. DTD has a lot of cool features. There are over 160 to 180 hand-drawn characters inspired by popular culture and 50 special Dino.
By offering this wide variety of distinct characters, there is something for everyone in the collection. The team at DTD is committed to creating something truly special by combining art and technology.
An Innovative Focus on NFT Utility
In terms of NFT utility, the team mentioned the following use cases:
Connecting holders

to diamond manufacturers in Surat, India – the "Diamond City"

Offering

creative and commercial rights

for each NFT

Granting

access to the upcoming

projects launching in the DTD ecosystem

Inviting holders to

exclusive events

A

staking system

granting holders the chance to lock up NFTs and obtain privileges and rewards 

Membership benefits

with entry into private forums and priority consideration for limited editions.
The team chose 12 different diamond shapes like cushion, radiant, princess, and others to make their NFTs stand out. These features help to bring the collection of Dino The Diamonds to life and provide their holders with unique experiences.
About Dino the Diamond
Dino The Diamond is an NFT project that combines the enduring symbol of love with dazzling diamonds. It originated from SOCH Business Mentors LLP, a company based in Surat, India. The city is extremely famous for its ethical diamond manufacture.
Dinos are special gifts that give access to exclusive things like new collections, special events, and other cool stuff. Additionally, it also includes all commercial and creative rights of Dino.
This initiative represents a chance to buy real diamonds directly from one of the top 10 manufacturers in the world. The merge of luxury and Web3 intends to appeal to a large group of investors.
The project will launch soon, and its unique NFTs will become available to the public. Anyone wishing to keep up to speed with the latest news can follow their official social media accounts below.
The Post Dino the Diamond to Debut as the First of Three NFT Series from the Diamond City first appeared on ZEX PR Wire
Information contained on this page is provided by an independent third-party content provider. Binary News Network and this Site make no warranties or representations in connection therewith. If you are affiliated with this page and would like it removed please contact [email protected]