Binghamton, NY, 4th October 2023, ZEX PR WIRE, Debra Gelson is a candidate for Binghamton City Court Judge in the upcoming Nov. 7th election. Recently Debra Gelson answered questions that she is most frequently asked while campaigning at voters doors.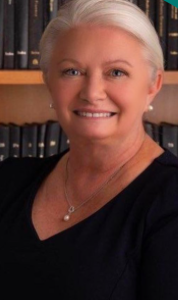 Gelson, a West Side Binghamton resident, has been visiting and answering voters' questions throughout the city for the last three months. The most frequent question Debra Gelson recieves from voters is, "What kind of experience do you have?". Debra Gelson believes that this question is frequently asked as voters are eager to be re-assured that the important job of City Court Judge lands in the best hands.
Debra Gelson is confident in her candidacy as she has 40 years of experience as a lawyer, and 10 years of experience as a municipal court judge – a record that is unmatched by anyone else in the race.
Debra Gelson has a wide realm of experience. During her years as an attorney she has participated in the various roles and types  types of law that are relevant to the job of City Court Judge. She has been a prosecutor – which is her current role –, as well as a public defender, a family law attorney, a college-level educator, and a judge.
Gelson is currently the Bureau Chief of the Financial Crimes Unit in the Broome County District Attorney's Office, and also serves as the lead prosecutor in the Domestic Violence Court that is part of the Binghamton City Court.
She comments, "My current job has been very busy of late, investigating and bringing to indictment and trial several members of a state-wide criminal shoplifting gang that has targeted stores in Broome County and elsewhere," She also notes she is currently in the investigative stages of another matter involving persons who are financially preying on vulnerable individuals.
Debra Gelson has been dedicated to the protection of vulnerable populations throughout her entire career. In her recent role as a lawyer Gelson her work involves litigation or bringing cases to trial.
Over the past five years Debra Gelson has appeared approximately 300 times in both Binghamton City Court and Broome County Court, in addition to appearances on cases in New York State Supreme Court and Broome County Family Court. She commented, "I estimate that 80 percent of those appearances have been in criminal matters, with about half the caseload that has gone to trial has been jury trials, and the remainder bench (before a judge only) trials.. Litigation is the bread and butter of my career. Earlier in my career, in New Jersey, I was certified by the New Jersey Supreme Court (New Jersey's highest level of jurisdiction) as a "Certified Criminal Trial Attorney". This was rewarded after a period of extensive training, demonstrated experience and an examination. During one period in her career as a prosecutor of sex and child abuse matters, she brought 17 cases to conclusion in court in one year.
In addition to her prosecutorial resume, she served as a public defender, representing clients accused of crimes.
"I have seen cases from both perspectives," Gelson noted.
Additionally, Gelson has had more than 10 years of experience overseeing trials and criminal and civil proceedings as a municipal level judge. In New Jersey, where Gelson practiced while raising a family of three-children, she was a full-or part-time municipal judge for more than 30 municipalities in three large, populous counties. New Jersey appoints lawyers such as Gelson to serve assignments substituting for judges as needed or when they have trial conflicts and cannot serve. One of those assignments – made by administrative judges in that state – included a stint in the City of Trenton. She additionally served as a civil commitment hearing judge for three medical centers that treat mentally ill or other medically vulnerable populations.
In light of her considerable experience, Gelson has served as a role model and a font of experience for other attorneys, and has participated widely in professional societies including the National Association for Women Judges, the International Association of Women Judges, the New Jersey Women's Lawyers Association, the National Judicial College, the Monmouth and Mercer County's Municipal Judge's Associations, the Monmouth, Mercer and Ocean counties Bar Associations and the Monmouth County Municipal Prosecutor's Association.
Currently Gelson is serving her second term on the executive board of the Broome County Bar Association.
Gelson tells questioning voters at the doors, "I bring not just a well-rounded legal and judicial background to this candidacy, but the totality of my life experiences, are essential to being a good judge."
Friends of Debra Gelson
PO Box 1411
Binghamton, NY 13902
https://Votedebragelson.com/
For Further Information: [email protected]
The Post Binghamton City Court Candidate Debra Gelson Answers Questions Most Frequently Asked By Voters At Their Doors first appeared on ZEX PR Wire
Information contained on this page is provided by an independent third-party content provider. Binary News Network and this Site make no warranties or representations in connection therewith. If you are affiliated with this page and would like it removed please contact [email protected]