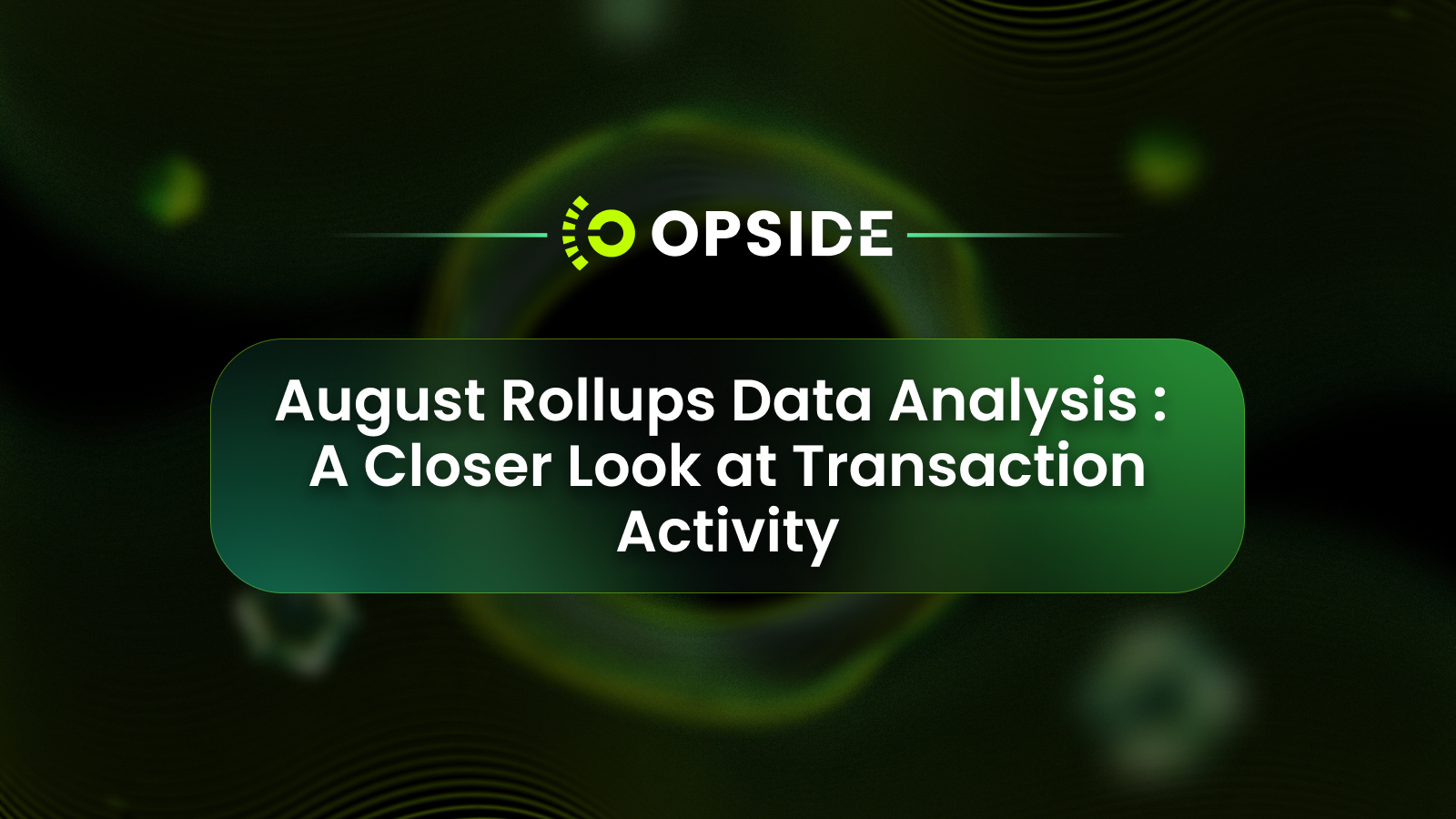 Hong Kong, China, 21st September 2023, ZEX PR WIRE, As of today, the narrative of Rollups has gradually become ingrained in people's minds. On one hand, it inherits the security, user base, and ecosystem of the mainnet while reducing transaction fees and effectively boosting performance, greatly enhancing the user experience. On the other hand, the business model of Layer2, such as transaction fee commissions, is becoming increasingly clear.
As the primary direction for Layer2 scaling, the Rollup track has seen frequent developments lately: Linea announced the opening of Alpha access to the mainnet, Base officially launched its mainnet, zkSync's bridge transaction user participation exceeded 2 million…
To gain a better understanding of the overall development of the Layer2 track, Opside has compiled statistics on some of the mainstream Layer2 solutions on the market (Polygon, Arbitrum, Optimism, zkSync, Linea, Base, etc.) and conducted an analysis of various dimensions. Below are the specific data performances of major Rollups in August: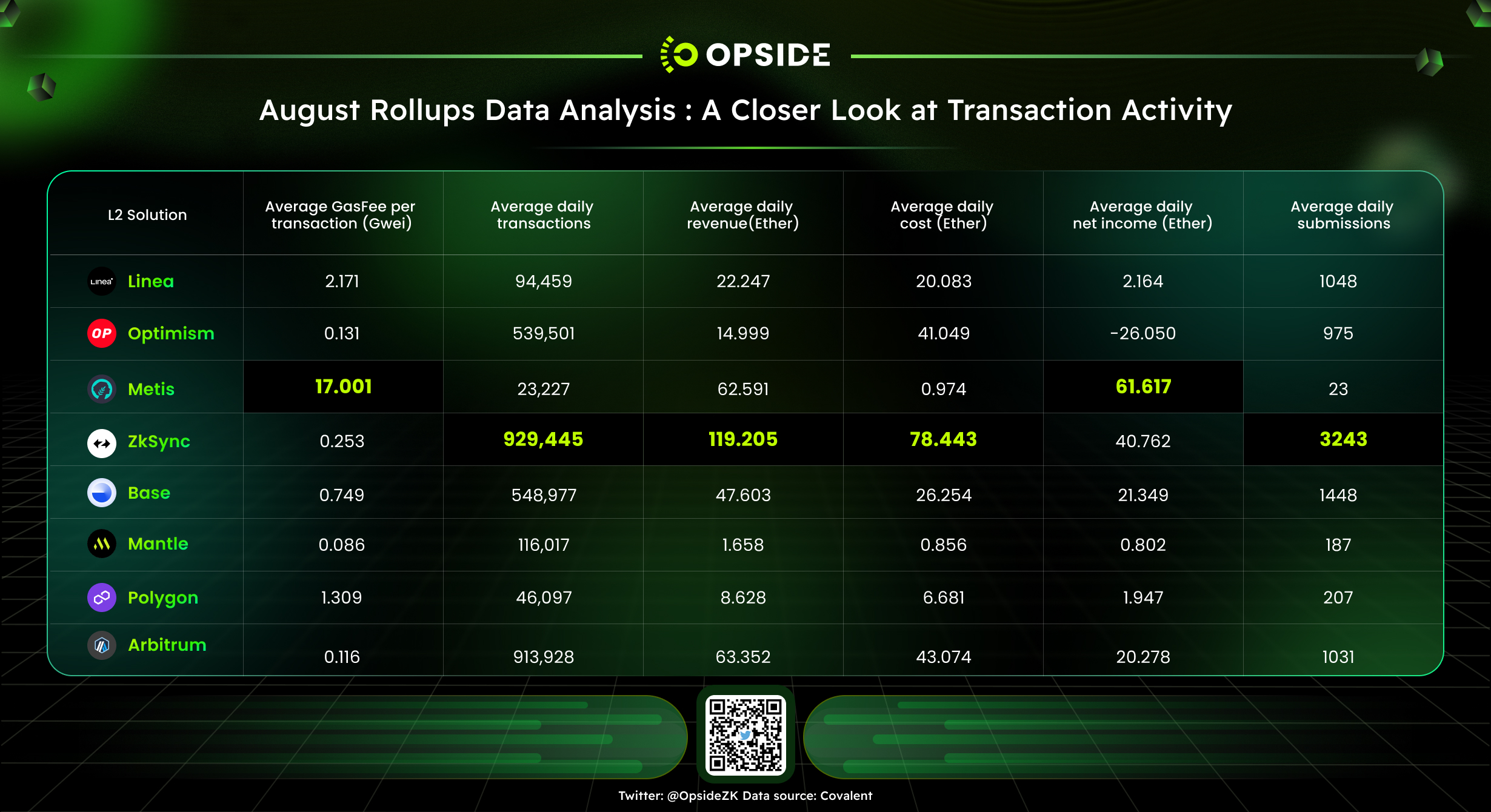 1. Transaction Activity 
In terms of transaction activity, zkSync stands out with an astonishing average daily transaction count of 929,445. This indicates that zkSync's ecosystem has achieved significant success in attracting users and transactions. On the other hand, Metis shows relatively weaker performance with an average daily transaction count of only 116,017, which could be attributed to Metis' high transaction fees.
2. User Costs 
From a user cost perspective, Metis' users seem to incur relatively high gas fees, with an average daily GasFee of 17.001 Gwei. In stark contrast, Optimism has very low user costs, with an average daily GasFee of only 0.131 Gwei. This could make Optimism more attractive, especially for users looking to reduce transaction costs. However, Optimism has not found an appropriate balance yet. Maybe the low GasFee has led to losses.
3. Performance of revenues and expenses
In terms of revenues, Metis shows outstanding performance with an average daily revenue of 62.591 ETH, which is the highest among the analyzed solutions. However, Optimism leads in terms of expenditure, with a monthly total expenditure of 1,272.512 ETH. This may require Optimism to further optimize its expenditure strategy to improve net revenues.
4. Net Income 
Metis also performs well in net income, with an average daily net income of 61.617 ETH and a monthly total net income of 1,910.115 ETH. In contrast, Optimism has a negative net income, with an average daily net income of -26.050 ETH and a monthly total net income of -807.558 ETH. This calls for measures to improve net income for Optimism to maintain its sustainability, such as appropriately increasing GasFee.
The Post August Rollups Data Analysis: A Closer Look at Transaction Activity first appeared on ZEX PR Wire
Information contained on this page is provided by an independent third-party content provider. Binary News Network and this Site make no warranties or representations in connection therewith. If you are affiliated with this page and would like it removed please contact [email protected]